DCI Group has been awarded two new contracts to provide its "Almak" ship to the French and Belgian naval schools.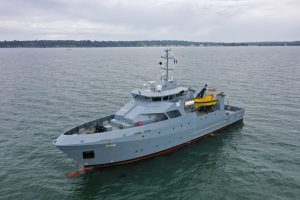 The "Almak" is a 44-meters training ship designed for the training at sea of ​​foreign cadets by DCI Group. It is operated by NavOcéan, a joint venture created in 2012 by DCI Group and Piriou shipyard. Its highly experienced crew, retired from the French Navy as well as the Merchant Navy, has mainly been sailing for the training of Middle-Eastern Navies. Thanks to its versatility, Almak also intends to address other state and private markets needs for naval training and support missions.
The French Navy will charter the Almak for the benefits of its Naval Academy for the next 7 years during peaks of activities in navigation and manœuvre training . The Belgian Naval School will also ensure its annual navigation campaigns on the Almak for the next 4 years.
" These two new contracts reinforce the DCI group development strategy in the fields of military training and capability providing for the benefit of the French and European navies. "
Vice-Admiral (2S) René-Jean Crignola, NAVFCO Branch Director