DCI Group's ambitions to develop new fields of expertise and new international alliances are made possible thanks to a corporate governance structure comprising a Board of Directors and an Executive Committee.
The Board of Directors
The Board of Directors defines the strategic direction of DCI Group, based on the policy lines put forward by senior management. It looks into all issues concerning how the company functions and gives its opinion on related matters.
As one of the company's governing bodies, the Board of Directors acts in the DCI Group's social interest. Its role is to consider the broad strategic, economic, financial and technological guidelines for DCI Group and its subsidiaries, and to ensure these are rolled out by senior management.
The Executive Committee
The Executive Committee analyses performances and results, decides what action needs to be taken to ensure goals are met and manages DCI Group operations.
Samuel Fringant, Chairman & Chief Executive Officer
Denis Guillois, General Secretary and Finance Director
Philippe Arnaud, Development Director
General (2S) Francisco Soriano, Director of the COFRAS branch
Vice Admiral (2S) René-Jean Crignola, Director of the NAVFCO branch
General (2S) Thierry Delahaye, Director of the AIRCO branch
Patrick Schuller, Director of the DESCO branch
Jean-Philippe Tosti, Director of Aircraft Operations and Operational Performance
Laurence Colombani, Director of Human Resources
Sylvain Marc, Director of Compliance and Legal Affairs
Patrick Galiano, Director of Training and Digital Transformation
Four Operational branches
DCI Group is organised into four operational branches, matching each of the branches of the French Armed Forces and its procurement agency, the DGA. It also has several operational departments, including Development (sales, partnerships and marketing) and Aircraft Operations, to meet our clients' needs. These are supported by Human Resources, Finance, Legal and IT departments.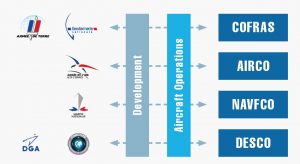 "Exports enable us to build close ties with strategic states for the security of France."
Florence Parly, Armed Forces Minister
SHAREHOLDERS